Integrated Platforms
If you're looking for a Forex CRM that can work with the popular MetaTrader 4 and MetaTrader 5 Platforms, then look no further. FX BACK OFFICE is fully integrated with both platforms and can provide your brokerage with an MT4 CRM or an MT5 crm that exceeds all of your expectations.
We pride ourselves on being the best Forex CRM provider out there due to our vast experience in creating user friendly, extremely secure and highly automated FX solutions – but before your brokerage can enjoy the many benefits of using our forex crm software, you need to understand how our platform integration will be at the very core of your success, enabling you to manage and protect your business at the highest level.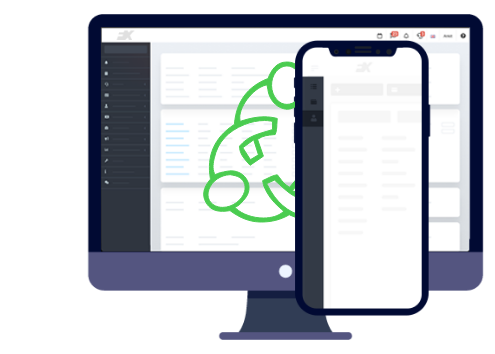 Take a look at the different integration options below and see a quick overview of how your brokerage will run seamlessly in conjunction with our CRM
HIGH FUNCTIONALITY
The vast majority of MetaTrader functionality can be found within our CRM. You can change groups or passwords and enable or disable accounts without giving MTM access out to just anyone. Use permissions and logs to track who changed what from inside the CRM
ACCOUNT ANONYMITY
One of the gravest concerns for White Label and Grey Label brokerages is who can access the database. We make sure that your database is fully protected at all times by the use of anonymous accounts which connect to the relevant client profiles
COMPREHENSIVE REPORTING
Because your MetaTrader data is stored in the CRM, there's no need to use MTM to run reports anymore. You can combine MetaTrader data and data from your clients profiles to create customized reports directly inside the CRM
NO DATA STORAGE NEEDED IN METATRADER
We set you up to be able to access all your data from one place. You no longer need to store or access data in MetaTrader on a daily basis to see what's going on in your brokerage
MT4/MT5 MAIN, WHITE & GREY LABEL INTEGRATION
There are no plug-ins required in order to integrate our CRM, meaning that our CRM can be used by main labels, white labels, and grey labels alike
PLATFORM INTEGRATION INTO THE CLIENTS AREA
All MetaTrader Mobile, Tablet, and Desktop download links can be set-up inside the Clients Area for ease of use. WebTrader can easily be connected there too.
We can integrate any platform. Speak to us today about which platform you need to integrate and we will provide you with a cost effective solution