Integrate FX Back Office with Leading Forex Trading Platforms
FX Back Office is a powerful Forex CRM that integrates with the industry's most popular Forex trading platforms including cTrader, MetaTrader 4 and MetaTrader 5.
No developers, no drama
As an industry-leading Forex CRM provider, our innovative solution allows Forex Brokers to push their business forward with a tailored system that is easy to use and works in harmony with different components.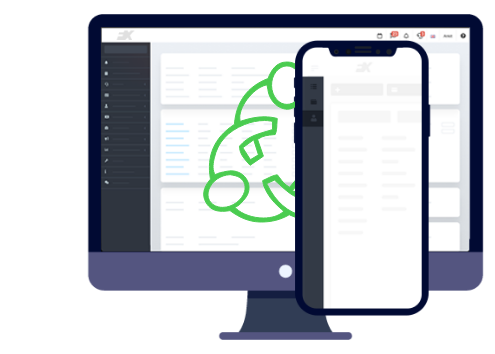 Our experienced CRM development team has created a user-friendly system that offers MT4 Integration with CRM, MT5 Integration with CRM and cTrader integration with CRM, allowing your traders to use the very best platforms in the business, all contained within a custom system that can deliver exactly what your business needs.
The result is a user-friendly, secure, highly automated FX solution that delivers a huge number of benefits in one easy to use package.
By integrating FX Back Office with industry-leading trading platforms your business will unlock endless possibilities, including:
Superior Functionality
The majority of the features found within the leading Forex trading platforms can be used within our CRM. Passwords and groups can be changed, and accounts can be disabled without needing to grant MTM access. Detailed permissions and logs allow you to track and attribute changes made within the CRM.
Anonymous Accounts
Controlling who can access your database is of vital importance to every Forex brokerage. Our integrated Forex CRM ensures that your database is protected by industry-leading software solutions and through the use of anonymous accounts that allow users to connect to the relevant client profiles.
Unparalleled Reporting
Our Forex trading platform offers integration with a range of leading platforms. As a result, all reports can be run through FX Back Office. Users can combine the data generated with the integrated platforms with their own data drawn from their client profiles to create entirely customizable reports that can be generated directly through our CRM.
Unified Data Storage
Our Forex CRM allows you to access all your client data whenever you need to. You will no longer need to store or access data through other platforms to understand your own business. This client data is secured by state of the art software.
Plug-In Free
Our integrated Forex CRM requires no plug-ins. As an experienced Forex CRM provider, we have created a system that can be used by main labels, white labels and grey labels alike and can be run plug-in free, with full integration with leading Forex trading platforms.
An Integrated Clients Area
All the mobile, remote and table apps, along with desktop download links from the leading trading platforms can be added to our Forex CRM's Clients Area, allowing incredible ease of use.
We can integrate any platform. Speak to us today about which platform you need to integrate and we will provide you with a cost effective solution