Blog
FX Back Office Integrates with Match-Trader Platform
Partnership
28 December 2022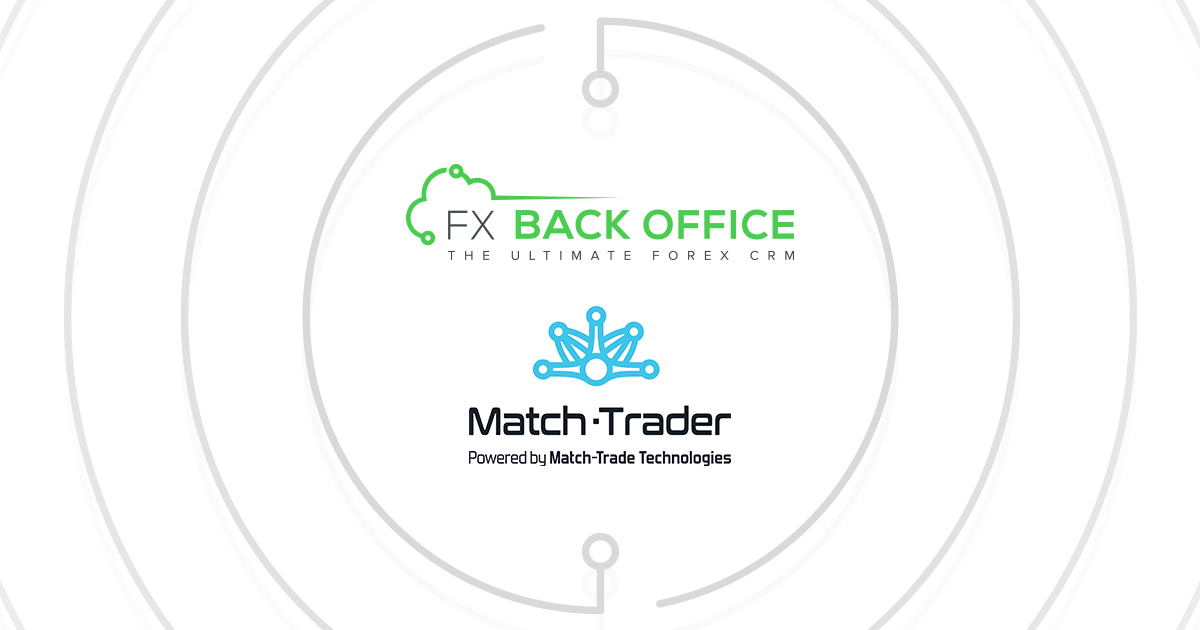 FX Back Office, a renowned CRM software for forex brokers, is now fully integrated with Match-Trader, the award-winning platform created by Match-Trade Technologies.
FX Back Office's state-of-the-art technology and forex industry expertise make the company a leading all-in-one solution for forex brokers seeking to manage their customer relationships. To ensure that it provides clients with a complete technological ecosystem, FX Back Office is constantly improving its systems and expanding its list of integrated trading platforms, payment service providers, and more.
The integration was aimed at providing Brokers using FX Back Office the ability to offer their clients the Match-Trader platform. This year, Match-Trade Technologies introduced the Match-Trader full server solution offer. Now, Brokers can easily integrate it into their current setup to create a complete trading ecosystem. Providing traders with multiplatform support will allow them to gain more flexibility in their offerings.
Jacek Czarniawski, Head of Product Development at Match-Trade Technologies, commented on the integration, "Our collaboration with FX Back Office Tech goes back to 2021 when they integrated our processing technology, Match2Pay, into their CRM. Now they have also decided to offer their clients the Match-Trader trading platform. As Match-Trader is an open ecosystem, the integration process was very straightforward and took only a week and a half. We are happy that such an established forex provider trusts our technology. This integration is a significant step towards the expansion of our platform."
Vasily Sokolov, Chief Technology Officer at FX Back Office Tech, added: " We're delighted to be working with Match-Trade Technologies. Match-Trader is one of the most powerful platforms in the trading business and we're happy to be able to offer it to every brokerage using our CRM and back office tools. Ever since we've worked with Jacek and his team, we've been planning to integrate Match-Trader with our system. We're sure that our clients and their traders will benefit from this award-winning platform."
About Match-Trade Technologies
Match-Trade Technologies is a fully integrated forex and cryptocurrency technology provider and creator of the Match-Trader platform recognised in the market by Forex Awards (2021) as The Best Multi-Asset Trading Platform and Ultimate Fintech. Our offering comprises the platform server with multiple APIs allowing to fit Match-Trader into any existing ecosystem and all-inclusive White Labels with Client Office for Traders, Forex CRM for Brokers, and Match2Pay, a blockchain-based Crypto Payment Gateway. We have operated in a global market since 2013. With our offices in Cyprus, Poland, South Korea, Malaysia, India and USA, we offer our services worldwide.
Match-Trade Technologies combined state-of-the-art software components of matching engine technology that enables forex providers (Brokers, Prime Brokers, and other LPs) to participate in the new generation of transparent, distributed and independent ECN and Crypto markets. Our strategic partnership with Match-Prime Liquidity Provider, regulated by CySEC, enables our clients to access deep liquidity across multi-asset instruments.
About FX Back Office
FX Back Office works with their clients to create custom front- and back-end features and experiences that are perfectly coded to address today's business demands. Working with the finest companies in the industry, FX Back Office is committed to creating systems that fully support the operations of international FX brokerages.
The company's unique CRM and back-office system can integrate with a wide range of programs, from industry-leading forex platforms to world class VoIP services, KYC verification systems and more.