Thu, 03/10/2022 - 10:00
CRMs: Powerful tools, in the right hands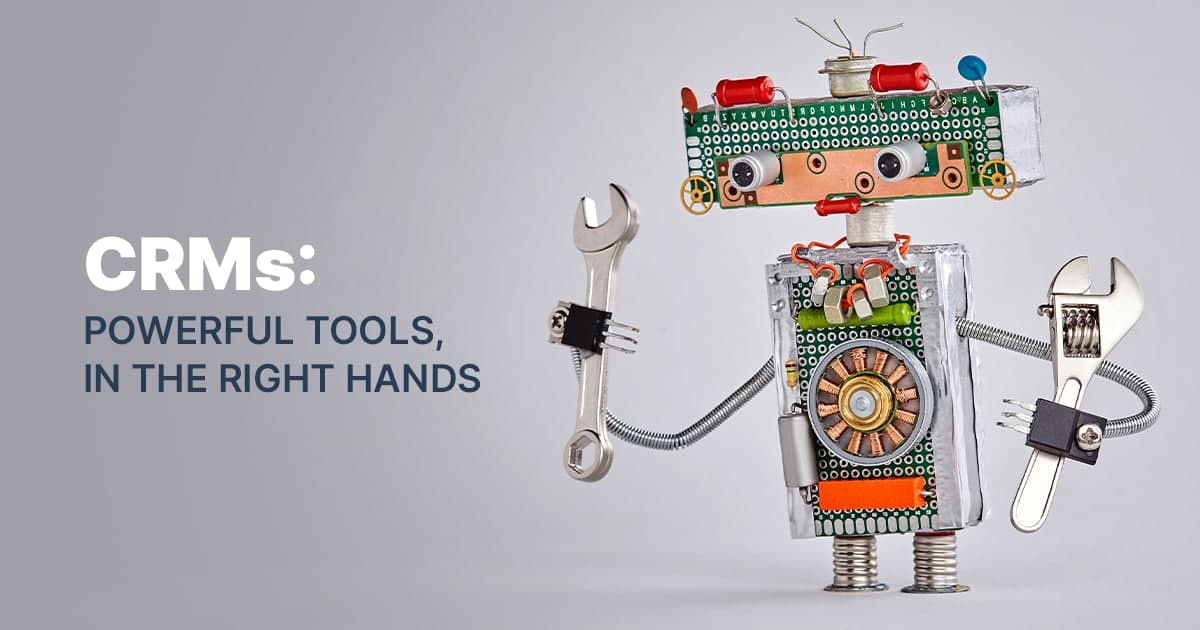 CRM's are a vital part of doing business across almost every sector. However, despite the importance of these systems, they're also prone to high failure rates, as high as 90% according to an article by Harvard Business Review. The question is "Why?"
The easiest way to begin understanding why CRM systems fail is to study some of the most prominent examples and take lessons from them.
Dow Chemicals: A lack of clarity
Dow Chemicals, one of the three largest chemical companies in the world, released a CRM in 1996. A seemingly smart business move, the project soon collapsed. The autopsy revealed that the company's internal procedures were ill-defined and therefore confusing to many staff, additionally, the company failed to support remote workers as they grappled with the problem. Dow addressed the issues by scaling down its CRM, creating a smaller system, with fewer projects under management, allowing for tighter control and monitoring.
British Airways: Poorly designed and over budget
Where to start? British Airways has long been plagued by problematic systems. In 2001, the company launched the Oracle-based Ocean Wave CRM; the launch dragged out over two years due to technical issues. The data structure was not designed with analytical purposes in mind and extracting useful insights was incredibly challenging. The structural problems slowed down analytical work and the staff required long training periods to overcome the system's shortcomings. The system was renowned for being slow and cumbersome. Finally, the data itself was of low quality, resulting in the analytical teams questioning the very utility of their work.
Blackberry: Collapsing communications and system outages
One of the most public tech collapses in history was Blackberry's fall from grace. In 2011, the company's bad decisions and management regarding their CRM systems led to consumers losing email and Blackberry Messenger services. This huge issue was compounded by the lack of a response to their customers and social media was flooded with complaints and high-level executives seeking answers. The company failed to respond via the CRM and their reputation tanked, further exacerbating the pressures they were facing from Apple at the time. The rest is history.
FX Back Office's powerful tools
Contemporary CRMs offer countless possibilities for companies that can embrace their full potential. It's vital to work with a specialist CRM developer to avoid costly mistakes and overruns in terms of time and budget, these are complex, powerful systems. A modern CRM is an incredible tool, but only dedicated designers can create a CRM that will leverage the full power of a fully-integrated system. FX Back Office can provide bespoke solutions designed to address exactly what forex brokers need.
Modular, bespoke systems
Because CRMs offer so many options and serve multiple departments and their needs, there is a risk that they become bloated and impossible to manage. FX Back Office's team is experienced in creating tailored solutions, the system is also modular, allowing companies to directly control and specify what their forex CRM will do, and how. As a result, individual parts of an organization can request systems designed to directly address their needs. Sales teams can target potential clients through marketing campaigns, KYC and other registration documents can be securely stored and managed with notifications automatically sent when documents are nearing their expiration date. IB commissions can be tailored to your company's needs and deposits, withdrawals and transfers can all take place within the CRM. Whatever it is your company needs, we can deliver.
Benefit from best-in-class software integrations
With the ever-increasing demands customers are placing on their CRMs, there's no way one company can create every solution. Many of the problems faced by CRM designers and the companies they're working for is that they're being asked to create systems that aren't their specialty. Our approach was to design a system that is able to integrate with third-party software created by expert companies around the world. From VoIP platforms to specialist KYC software, FX Back Office's CRM takes specialist or niche software from leading companies and integrates into our systems, allowing forex companies to benefit from industry-leading software and solutions across a wide range of applications alongside our own industry-leading systems.
Boost your revenue
A CRM is nothing more than a tool to make money. It's that simple.
Thanks to our modular, integrated approach, we can offer you solutions to a wide range of challenges. We can help marketing teams deliver their messages to targeted clients, or conduct mass campaigns, and we can then assist sales teams in contacting prospects and present them with a simple, safe, and clear process by which they can come on board all backed up by bespoke messaging and client management systems.
At every stage of development FX Back Office's mission is clear: We create systems that either directly support companies' efforts at finding new business, or that allow companies to manage existing clients and their requirements quickly and efficiently, thereby saving you time and money.
There's no bloat, there are no overly complex procedures. It's simple, clean and straight to the point.
We're creating the future of Forex CRM systems, request a demo today to take your next step.